West Hall
west byfleetsurrey
Off Parvis Road, West Byfleet, Surrey, KT14 6EY
Save property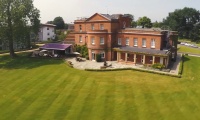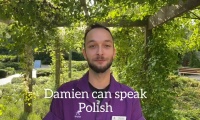 Welcome to West Hall
A friendly and safe welcome
Find out how we are welcoming new residents into our home, alongside the measures in place to keep everyone safe.
West Hall care home in West Byfleet, Surrey is Anchor's flagship care home.

At West Hall we have created a modern, high-quality care home fit for the demands and expectations of the 21st century. The unique appearance and design, our professionally qualified staff and our state-of-the-art facilities creates a standard of care that is dignified and personal and encourages an active, independent life.

Our listed Manor House has been refurbished and boasts a wide range of facilities, such as a hair and beauty salon, library, quiet room and both a bistro and private dining facility. Situated in the stunning surroundings of the Surrey greenbelt, West Hall also offers extensive landscaped gardens and wonderful, uplifting views.

West Hall's excellent facilities are complemented by a wealth of meaningful activities and living here you'll always find plenty to do.

Residents live in small groups in three specially built residences radiating out from the Manor House. Each have large individual bedrooms and shared living and eating areas. The aim is to have a real sense of community for residents at West Hall by offering a wide range of social activities and encouraging independence and choice.

At Anchor, we have a long history of caring for older people and we put our residents at the heart of everything we do. In times of uncertainty, Anchor is a care provider you can depend on. We are proudly not-for-profit with 50 years of experience. West Hall, and the specially tailored residential care we provide here, is the result of this approach, carefully conceived with all our experience and passion, to meet the needs and expectations of the next generation of older people.

If you are looking for a home for yourself or a loved one, why not find out more about what West Hall has to offer.
Features of West Hall
Communal facilities
Shared facilities complementing each private residence:
Engaging activities programme
Garden
Communal lounge
Hobby / craft room
Hairdressing salon
Care and support
In addition to residential care, we also offer:
Respite care
Palliative care
Dementia care
Convalescence care
Parkinson's disease
Food and dining
We promote wellbeing through a positive dining experience:
Communal dining area
Nutrition and hydration stations
Private dining area
Visitors are welcome to join residents for meals
Life at West Hall
You'll always find plenty to do at West Hall. With a host of leisure activities for you to take part in, our home has a great community feel where people engage with their fellow residents, families and friends, and continue doing all the things they usually enjoy in a supportive environment.

With social events in the home and the local community arranged in collaboration with residents, you can make your life at West Hall a hive of activity or as gentle as you wish.

Favourite activities, personal interests and ability are discussed when you move in and using this information helps us create a stimulating events and activities calendar matching individual residents' interests and needs.

The home's wide range of facilities and its unique design support our approach to activities, with several dedicated activity areas at West Hall including an arts and crafts room which has cooking facilities, a library, garden and a spa.

We know how important it is to maintain close bonds with the people in your life. At West Hall, your visitors are always welcome at any time, including mealtimes and to take part in activities.
At West Hall we have a caring team of well qualified professionals, passionate about what they do and dedicated to ensuring our residents always feel confident that they can rely on a friendly face and helping hand 24-hours a day.

We encourage visits to West Hall so you can meet our team and get a feel of what it would be like to live here. You will be able to look around, meet other residents, find out what goes on and ask any questions you may have. It is important to us that you make the right decision and are happy with your choice of new home.

The friendly team at West Hall care home would love the chance to show you what our home has to offer here in Surrey. Here are just a few of the people you may meet on a visit to our home:
---
Andy Jarman
Customer Relations Manager
Everyone here at West Hall welcomes you to stop by for a visit. We are happy to show you what our unique care home can offer, talk you through the high quality care and support and show you round the first class facilities.
---
Jason Nelson
Services Manager
Jason has a wealth of experience managing services across a range of different sectors and brings his passion for great food to West Hall. After starting his career as a chef for Waverley Inns, Jason became an area manager responsible for 16 public houses. He moved on to Sodexho Catering and worked in military kitchens in both Hampshire and Surrey, at times cooking for up to 950 service personnel. Jason was then offered a position with Harrison Catering at Claremont Fan Court School in Esher, before gaining experience at Hampton Care nursing home. Jason found working in the care home hugely satisfying and firmly believes that high quality catering using fresh local produce can really make a difference to quality of life.
---
Mark Garraway
Maintenance Manager
As West Hall's Maintenance Manager, Mark is focused on providing residents with real peace of mind, working hard to ensure the home is well maintained at all times. Mark started his career as an apprentice hard and soft Landscaper and quickly went on to become a Head Groundsman. Keen to expand his skills, Mark decided to train as a Carpenter Joiner, and over the years worked for several companies on an array of projects including new builds and refurbishments as a Site Manager. Mark joined Anchor in January 2012 and really enjoys his current role at West Hall.
---
Debra Cockburn
Administrator
West Hall is a great place to live and work, I'm proud to be part of the team.
Helping you move this winter
As a thank you, we'd like to offer you the opportunity for two weeks' free stay when you move into one of our participating care homes on a permanent basis, or 3 weeks care for the price of 2 weeks when you move into one of our participating care homes on a short stay respite basis.
Terms & conditions apply
Two weeks free stay
As a thank you, we'd like to offer you the opportunity for two weeks' free stay when you move into one of our participating care homes on a permanent basis.
A safe welcome
Staying safe
We continue to welcome new residents to our home safely. We regularly test residents and colleagues, have been prioritised for Covid-19 vaccinations and are well equipped with high-quality personal protective equipment (PPE).
Staying clean
We ensure a sterile environment with regular deep-cleaning and are committed to protecting everyone living and working in our home through robust infection-control measures.
Staying in touch
We maintain regular contact with families and are doing everything we can to enable residents to see relatives and loved ones wherever it is safe to do so. We also offer virtual show rounds to those considering our home.
Useful information
To start your enquiry simply click 'Make Enquiry' and call us or complete an enquiry form.
We'll provide you with full details of the home, along with any other information you'd like such as sample menus and activity schedules.
While we can't currently invite you to visit in person, a member of our friendly team can offer you a virtual show round, a video call or a FaceTime appointment, where you can speak to them one-to-one and take a look around the home and any rooms that are available.
We're keen to show you what daily life is like here and for you to meet the staff providing care. You can also see for yourself the measures we've put in place to keep residents safe.
If you wish to take your enquiry further, an assessment will take place to make sure we can meet your loved one's care needs. This will be arranged in a safe way by the senior care management team at the home and may be conducted virtually or at a safe social distance with the staff member wearing the required PPE.
Ensuring residents' safety and wellbeing is our absolute priority.
We'll put together a comprehensive two-week settling-in programme with you and your loved one, designed entirely around their needs. This provides a dedicated package of one-to-one activities and support that minimises the potential for cross-infection. We'll use this time to get to know each other and, most importantly, ensure there are plenty of opportunities to maintain regular contact with family and friends using the latest video call technology.
Our chef will arrange delicious meals to suit your loved one's preferences and dietary requirements and discuss our menus going forward. And, from day one of moving in, our housekeeping teams make sure bedrooms and laundry services are tailored to their needs.
The home manager will discuss every area of moving-in with you in detail to make sure you and your loved one know exactly what to expect and feel confident and welcomed when they come to live with us.
Our homes were among the first in the country to take part in the government's care home testing programme in July 2020 – and we've been regularly testing colleagues and residents since.
All care home colleagues are routinely tested twice every week.
All residents are tested on admission to the home and then routinely.
With residents' safety and wellbeing our absolute priority, we want to assure you that we're doing everything possible to prevent coronavirus entering our homes.
We are pleased that care home residents and workers have been prioritised to be among the first to receive the COVID-19 vaccine.
The roll-out to Anchor care homes is underway with vaccination teams coming into the home to administer the vaccine.
Each of our homes is different so please speak to the care home manager once you have made an enquiry.
Like any other infectious disease, coronavirus can be prevented from spreading with the right training, equipment and infection-control measures.
We are well equipped and have good stocks of high-quality personal protective equipment (PPE) which complies with government requirements.
Our in-house team are highly trained and experienced in ensuring a clean and safe environment and committed to protecting everyone living and working in our home through the consistent use of infection control measures. These measures include regular hand washing, social distancing, putting on clean uniforms upon arrival and the proper use of appropriate PPE.
As members of the British Institute of Cleaning Science (BICSc), we take cleaning and cleanliness extremely seriously. We use the highest-quality products and are following an enhanced programme of cleaning.
We understand how important visits are for everyone concerned and remain committed to them happening. Throughout the pandemic we've been doing everything we can to enable residents to see relatives and loved ones wherever it is safe, appropriate, and in line with Public Health England guidance.
Our teams have worked hard to facilitate visits in our gardens and external areas at some of our homes and, where full safety criteria has been met and local health protection advice permits, we now have an inside visiting space with a screen.
Of course, this is all subject to changes in government guidance and local lockdown restrictions.
We will always permit visits in exceptional circumstances.
Each of our homes is different and you'll have the opportunity to speak directly to the manager of the care home you're interested in.
In these challenging times we've invested significantly in technology – such as Skype and FaceTime – so you can stay in regular touch.
During this difficult time, we're keeping life as normal as possible so residents feel safe, secure, and happy. Which means your loved one can expect great fresh food, a wealth of activities and friendly company.
Residents continue to enjoy delicious, freshly-made meals every day, with a choice of menu daily, prepared by our expert catering teams.
Our creative activity programmes, developed by our in-house team of wellness coordinators, aims to keep residents as active and healthy as possible, should they wish to take part, ranging from person-centred activities to home-wide events.
Getting here
West Hall
Off Parvis Road, West Byfleet, Surrey, KT14 6EY
Want to find out more about West Hall?