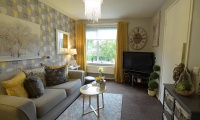 Welcome to Westfields
At Westfields retirement housing scheme in Baguley, we offer 40 studio and 9 one bedroom purpose-built properties for rent for people over the age of 55. We also offer on-site support from trained care staff should you require any additional help.

The property is situated close to Manchester and has excellent transport links to the city centre and nearby Wythenshawe. The local shops are within walking distance and include supermarkets, a post office and restaurants. There are several doctors' surgeries nearby. Other local amenities include Wythenshawe Park and leisure facilities at the nearby Wythenshawe Forum.

We understand that sometimes you like to be alone and at other times you may want to be more sociable. Our properties give you that freedom. At Westfields we run social activities including yoga classes, book clubs, day trips and coffee mornings.

You will not need to worry about maintenance and repairs or gardening upkeep as we take care of those. We provide a wide range of facilities, including a communal lounge, a guest room, a garden with seating area, an on-site laundry and 12 parking spaces.
Westfields currently has 1 review
Features of Westfields
Communal facilities
Shared facilities complementing each private residence:
WiFi
1 lift
Scooter storage
Secure door entry system on all external doors
Car parking available
Care and support
More support available when you need it:
On‑site care services
Supporting Manager
24 hour emergency response call system
Life at Westfields
At Westfields we have a range of facilities available to all tenants, including:

Communal lounge, assisted bathing and landscaped gardens.

Nearby facilities include shops, post office, vets and a health clinic.

The local bus service goes to Manchester, Wythenshawe Hospital and Sale shopping centre.

At Westfields we offer 49 properties to people over 55. There are 9 one bedroom flats and 40 studio apartments.

All our properties are self-contained, allowing the privacy and independence that you enjoy. You will have a bathroom, kitchen with fitted cupboards, storage space, lounge and bedroom areas. If you want to give your home a personal touch, you have the freedom to decorate and furnish it as you wish.

All our properties are digital and satellite TV compliant. You can also arrange to have your own private telephone or broadband connection installed. Please contact the scheme manager who can give you more details.

At Westfields we organise a range of activities throughout the week, which change on a regular basis. Some examples are:

Coffee and bingo afternoons, a visiting hairdresser and a Friday fish and chip night.

Evening social events at least once a month, usually including a singer and a drink.

'Ring & Ride' days out to Stretford to get your shopping done.

Pricing information
We endeavour to be completely transparent about all our charges and fees. Below is indicative pricing to act as a guide to the costs at Westfields, Manchester. For further information please contact us.
How much does it cost?
Properties for rent
Your monthly fee will range from £514.64 and normally includes your rent, service charge, heating, hot water and water rates.
What is included in rental fees?
Our service charge covers all the cost of amenities you share with your neighbours, including the scheme manager service, our 24-hour emergency call service (Anchor Hanover on Call), repairs and maintenance, window cleaning, gardening and the cleaning of communal areas.

Your local council will be able to advise you about getting help paying your rent and service charge through housing benefit. They will also be able to tell you if they will be paying grant to us to meet or contribute towards the support cost elements of our services to you.
Getting here
Westfields
212 Hall Lane, Baguley, Manchester, Greater Manchester, M23 1LP
Want to find out more about Westfields?
Other properties for rent nearby